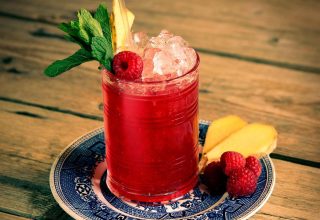 Teeling Summer Iced Tea
30/6/2018
Cocktail Recipe, Summer Cocktail
Crafted by our Global Brand Ambassador, Kevin Hurley, this refreshing summer time tipple is bursting with fresh berry tea flavours, reminiscent of your favourite childhood iced treats! Fresh summer fruits such as pink grapefruit, raspberry and vanilla dance on the tongue with a refreshing citrus and ginger kick to finish. Perfect for the long, hot summer ahead (fingers crossed!!)
We use Wall & Keogh in our iced tea cocktails. The guys from Wall & Keogh have over 150 varieties of loose leaf, organic tea in their tea house nestled in Portobello, Dublin 2 . We have chosen their "Granny's Country Garden Fruit Tea" for its aromatic and fruit filled flavour. It contains elderberry and apple pieces, beetroot, hibiscus, blackberries, redcurrants, raspberries and strawberries.
This recipe is perfect for both individual serves, pre-batched or punch style cocktails and of course, lends itself wonderfully to being enjoyed with friends this summer! It's one of our summer festival cocktails for 2016, and can be found at the "Bang Bang" bar in our distillery – make sure you pop by and try or let us know how you get on if you decide to fly solo!
Teeling Summer Iced Tea Cocktail
I N G R E D I E N T S
40ml Teeling Small Batch
20ml Aperol
15ml Ginger Liqueur
30ml Lemon Juice
10ml Sugar Syrup
60ml Wall & Keogh Granny's Garden Tea
M E T H O D
Make a weak tea by infusing 1tsp of Granny's Country Garden Fruit tea to 150ml hot water and allow to infuse for 4-5 mins.
Allow tea to cool
Pour all ingredients into a cocktail shaker and shake vigorously for 10-15 seconds.
Strain into a rocks glass/Julep cup filled with crushed ice.
Garnish with fresh raspberry, mint sprig and fresh root ginger.
Join the conversation to find out more!
#TeelingWhiskey #SpiritofDublin