Dublin Whiskey is Reborn with Release of the Teeling Single Pot Still
26/10/2018
Limited Edition, Single Malt, Reserve Collection
First Commercial Release from the Teeling Whiskey Distillery located in Dublin City Centre.
Teeling Whiskey, Ireland's leading progressive whiskey producer, is proud to announce the release of its Teeling Single Pot Still Irish Whiskey, the first commercial release distilled at its Dublin based Teeling Whiskey Distillery. Teeling Single Pot Still is the first new Dublin distilled Irish whiskey to be released for nearly 50 years, marking the true revival for the craft of distilling in the city. This release follows the auctioning of the first 100 bottles from the distillery in September, in aid of local Dublin charities – when bottle no. 1 sold for £10,000, breaking a world record for the most expensive bottle of whiskey sold from a new distillery.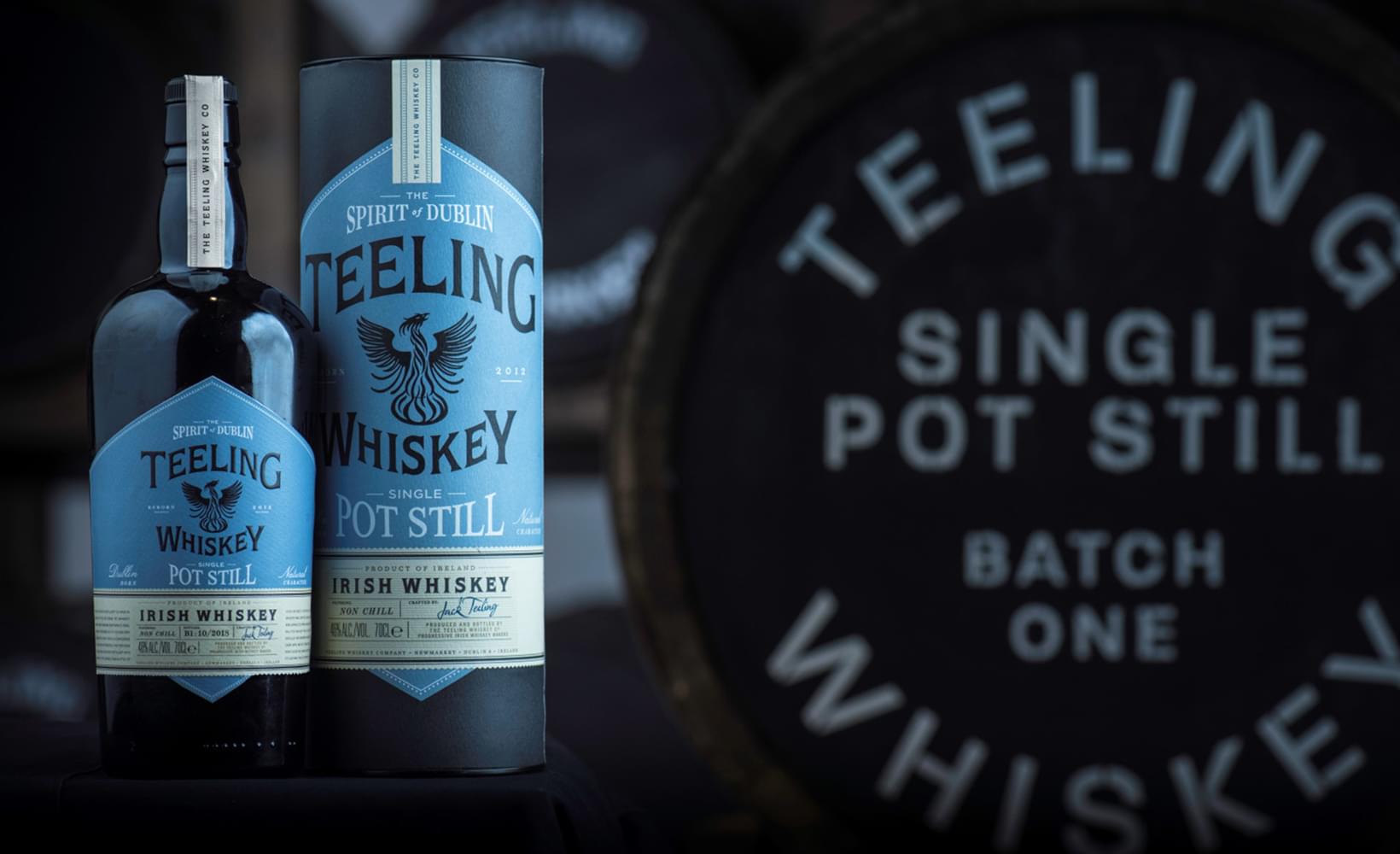 The arrival of Teeling Single Pot Still is a landmark occasion for Ireland's whiskey industry and in particular for Dublin. Dublin whiskey and its distilleries were at the forefront of the previous golden era for Irish whiskey in the 19th century, and it was a very dark day for Irish whiskey when, during the 1970s, these last remaining distilleries closed their doors. The opening of the Teeling Whiskey Distillery in 2015 marked a new chapter in the history of Dublin whiskey distilling, firmly putting Dublin and Teeling Whiskey at the forefront of a new wave of distilleries, that are driving a new golden era for Irish whiskey.
This is the first commercial release of Teeling Single Pot Still Whiskey, produced from a recipe of 50% un-malted barley and 50% malted barley, a uniquely Irish mash bill made famous by Dublin distillers of old. Distilled in 2015 in the Teeling Whiskey Distillery and aged in a range of virgin oak, ex-bourbon and ex-wine casks, this release possesses a distinct Pot Still taste profile unique to Teeling. Batch 1 of the Teeling Single Pot Still was bottled in October and is limited to 6,000 bottles.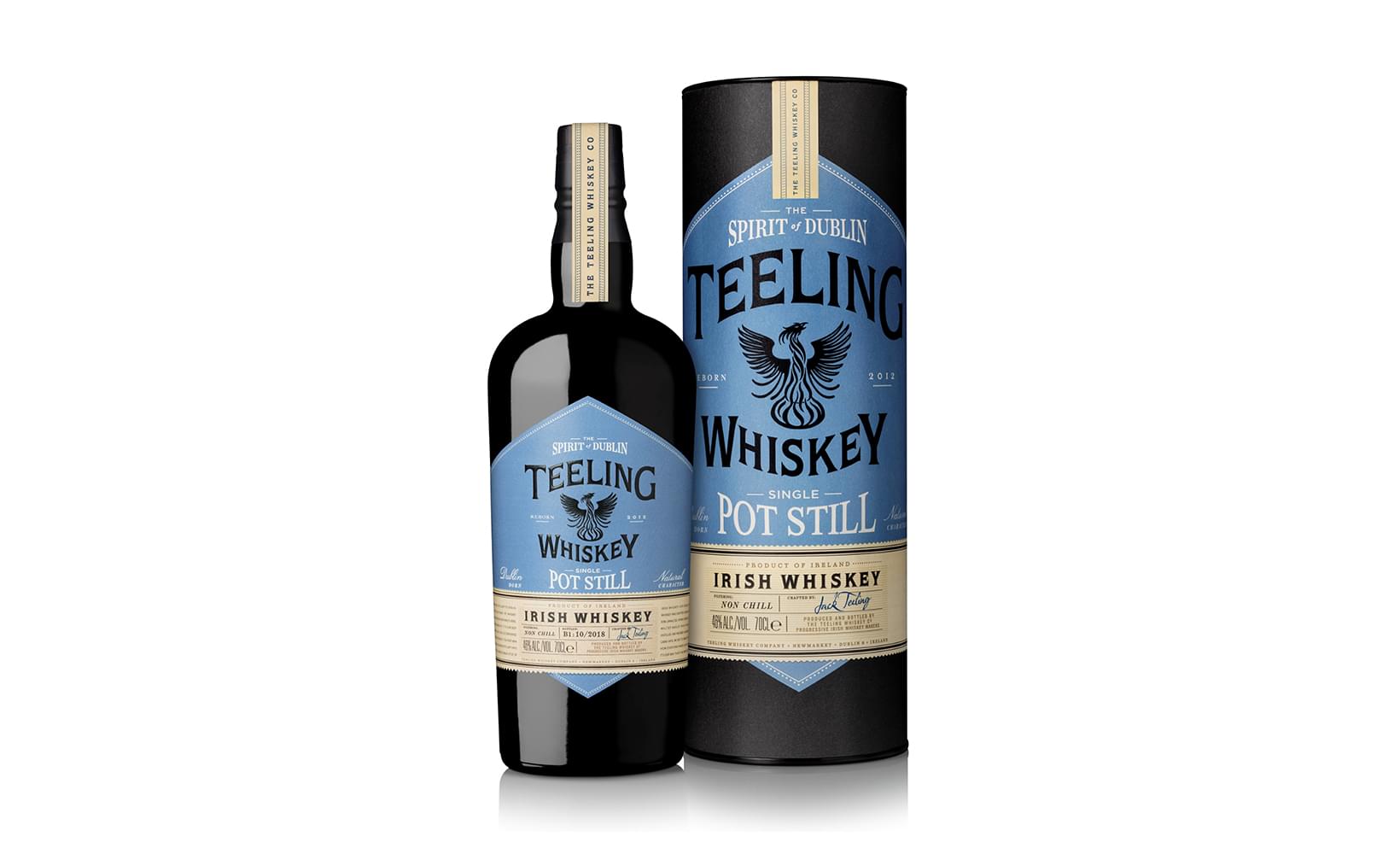 Commenting on the Single Pot Still release, Jack Teeling, Founder and Managing Director of Teeling Whiskey said:
"When the Teeling Whiskey Company was formed in 2012, my vision was to revive Irish whiskey distilling in Dublin and put our capital city back at the top table of whiskey producing areas in the world. While we have achieved a lot over the subsequent 6 years, the release of our own Dublin distilled whiskey completes the revival of the craft of distilling in Dublin and hopefully draws us into a new renaissance for not only Teeling Whiskey but Dublin distilled Irish whiskey as a whole.
Many new Dublin distilleries will no doubt follow but the history books will always remember us as the first and leaders of a new generation of producers. Our journey has been supported by many to get us to this point but a new legacy has just begun. We look forward to helping drive a new golden era for Dublin and Irish whiskey.
The first batch of the Teeling Single Pot Still is exclusively available in Ireland and will be available through the Teeling Distillery gift shop today, Friday 26th Oct, and at teelingwhiskey.com, Celtic Whiskey Shop, Dublin Airport and select independent off-licenses from next week. The Teeling Single Pot Still Irish whiskey 70cl bottle comes in a gift tube and is bottled at 46% with a RRP of €55.00.
Join the conversation to find out more!
#TeelingWhiskey #SpiritofDublin