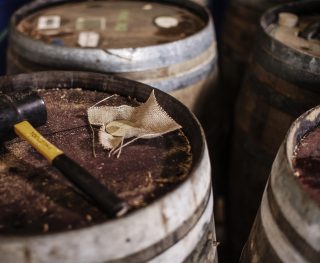 Teeling spirit of dublin poitín

This limited release is triple distilled in traditional copper pot stills and made from the FINEST IRISH BARLEY. The first new release to come from the TEELING WHISKEY DISTILLERY, the first new distillery in DUBLIN in over 125 YEARS. Our Spirit of Dublin is bottled straight from the still with no maturation producing a wonderfully smooth spirit. The Spirit of Dublin Poitín lends itself to be consumed in a variety of ways, neat, with water, with mixers and as a component of cocktails. Batch 1 consists of 50% Unmalted Barley & 50% Malted Barley and is bottled at 52.5% Alc Vol. We suggest serving our Spirit of Dublin with a premium tonic water and a slice of orange peel over ice.

proudly bottled at 52.5% ABV
with no chill filtration, for true character.
tasting notes
nose
Cooked barley, honey, fresh batch bread, fruits of the forest
taste
Smooth rich fruit and cereal mixing with spice as it covers the tongue
finish
Soft and delicate finishing dry