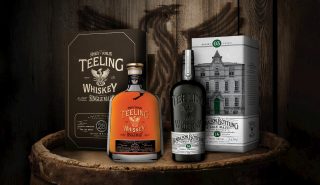 Teeling Whiskey Marks World Whiskey Day with Launch of Two New Single Malt Whiskeys
5/16/2020
Updates, New Releases
We are delighted to announce that we will be launching two new expressions of our award winning range of Single Malt whiskeys to honour this year's World Whiskey Day. These releases reaffirm our continued dedication to creating new and interesting expressions of Irish whiskey and in particular, expanding the underdeveloped Irish Single Malt category.
Over the last 8 years, Teeling Whiskey has won over 250 International Awards for our unique range of Irish Whiskeys, with our Teeling 24 Year Old Single Malt being honoured as the World's Best Single Malt at the World Whiskies Awards in 2019 as well as their Teeling Brabazon Series Single Malt being singled out for category prizes regularly at International Spirits Awards shows over the last few years. Two new, aged limited edition releases of both the Teeling Brabazon Series and Teeling Vintage Reserve Collection will aim to carry on this mantle of putting Teeling and Irish Single Malt back at the top table of Single Malt producers.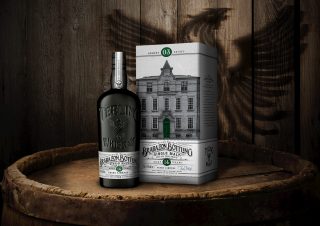 TEELING BRABAZON SERIES 3 – 14 YEAR OLD PX SHERRY FINISHED
The Teeling Whiskey Brabazon bottlings celebrate the combination of the old and new, producing very unique and interesting Irish whiskeys. For Series 3 we have worked with a unique and high quality, family owned winery dating back to 1729 in the famous Jerez area of Spain. For over 300 years they have specialised in the Pedro Ximénez grape and we have sourced some ancient barrels from them which had been used since 1918 in their small bodega. These rare PX barrels were filled with our Single Malt which was distilled in 2005 and left for over three years to impart the full range of flavour and character on the whiskey. The result is truly a unique whiskey bursting with baked fig, caramelised fruits and distinctive smoothness. Limited to 10,000 bottles this is truly an Irish whiskey to savour.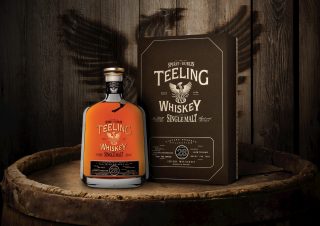 TEELING 28 YEAR OLD VINTAGE RESERVE SINGLE MALT
The Teeling Vintage Reserve Collection consists of very limited releases of very rare and old Irish Single Malt whiskeys. Containing some of the oldest Single Malt Irish whiskey ever bottled, the Vintage Reserve Collection allows you to savour and appreciate Irish whiskey at its finest. The Teeling 28 Year Old Single Malt Irish Whiskey was first distilled in 1991 and matured in Bourbon casks then allowed marry in Sauternes wine casks, producing a wholly unique taste experience. The unique dual maturation imparts an extra depth of fruit flavours that perfectly complement the hint of smoke derived from the inclusion of a small portion of peated malt as part of the original ingredients used in production. This small batch bottling, limited to just 4,000 70cl bottles, were hand bottled in unique decanter bottles and come with their own certificate of authenticity. This is a follow on bottling of the same whiskey which was honoured as the World's Best Single Malt with four years of extra maturation.
Jack Teeling, Founder and Managing Director of Teeling Whiskey commented, "We are extremely proud to be able to release these unique and high quality bottlings of Irish Single Malt during a very challenging time for our industry and more importantly, humanity. We were delayed in releasing these offerings as we all put on our hard hats but to mark World Whiskey Day we wanted to showcases these whiskeys to the world to hopefully, along with our recently launched virtual tour, allow people to still learn more about who we are and our whiskeys.
The benchmark we set ourselves for all our Teeling Whiskey bottlings has been raised due to some of the awards we have received, most notably the honour of the World's Best Single Malt. Thus these new offerings build on the quality of the earlier releases and I am delighted to say that these two new releases are definitely some of the best whiskeys we have ever released. These offerings are central to our goal to help drive diversity in Irish whiskey by introducing interesting and unique small batch bottlings."
Both releases – the Teeling Brabazon Series 3 and Teeling 28 Year Old Single Malt will have a very limited release to start off and will be available to purchase initially in the Teeling Whiskey Distillery, Celtic Whiskey Shop and some limited Independent off-licenses. The Brabazon Series will retail for €95 and the 28 YO retailing for €500 both per 70cl before being rolled out to the Benelux, Denmark, Germany, Switzerland, Australia and select Asian markets in due course.
For more updates on all things Teeling, including new releases, events and offerings please sign up to our mailing list here. You can also follow us on social media!
@TeelingWhiskey | #TeelingWhiskey
Facebook
Instagram