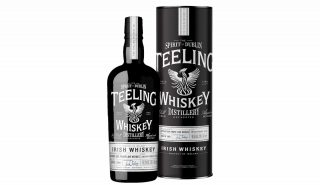 Teeling Whiskey Releases Special Charity Bottling in Support of Front Line Heroes
4/1/2020
Updates, New Releases
Today we are releasing a special charity bottling of our Distillery Exclusive range with all profits going to charities who are at the Front Line of the battle of COVID-19 in Ireland. This special charity release will be limited to only 300 bottles and consists of the first Teeling Whiskey which has been matured in Irish Virgin Oak.
The Front Line Heroes special release is available to buy now priced €75, via The Celtic Whiskey Online Shop online: https://www.celticwhiskeyshop.com/Teeling-Virgin-Oak-Charity-Bottling
Commenting on this special release, Jack Teeling, Founder and Managing Director of Teeling Whiskey said:
"This is a very difficult time for everyone, but none more than the people at the Front Line of the battle against COVID-19. From the people caring for our elder, vulnerable community to those in the trenches in hospitals around the country, we wanted to do something to support in some way.
We chose Teeling Whiskey aged in Irish Oak to reinforce and reflect our national strength of character and deep roots, as we work together to take the necessary, hard steps to tackle the crisis we find ourselves in.
We are truly thankful for the sacrifices people are making on a daily basis and this release is just a small gesture of our appreciation for these true Front Line Heroes through the various charities we have chosen to support."
This release follows on from the unique range of Teeling Whiskey Distillery Exclusive bottlings which have focused on unique wood types including Chestnut Casks, Hungarian Virgin Oak and Chinquapin American White Oak. This is the first ever Teeling Whiskey release which has used Irish Virgin Oak delivering a unique, rich, cream and honey taste experience. Each bottle was hand filled at 48.5% and will sell for a RRP €75.00.
All profits will be going to the 4 charities below supporting the Front Line Heroes of the battle against COVID-19. Please donate at the links below:
The Mater Foundation
The Mater Foundation is the official fundraising body of the Mater Misericordiae University Hospital. We want to support all the Front Line Heroes in the Mater Hospital at this difficult time. Please donate here.
Keep Breathing
This GoFundMe initiative raises money to support The Coronavirus Response Team (CRT), a non-profit group which is committed to developing an open-source, easy to use and rapidly manufactural ventilator to treat the vastly increasing numbers of COVID-19 patients requiring ventilation. Please donate here.
St. James' Foundation
St. James' Hospital in Dublin 8, very close to the Teeling Whiskey Distillery, is the largest hospital in Ireland. We want to support St James's Hospital Superheroes during this particularly challenging time. Please donate here.
ALONE
Based in Dublin 8 with branches around the country, ALONE supports the older community in times of crisis and social isolation. Their volunteers are being overwhelmed by the required cocooning of the over 70's. Please donate here.
@TeelingWhiskey | #TeelingWhiskey
Facebook
Instagram