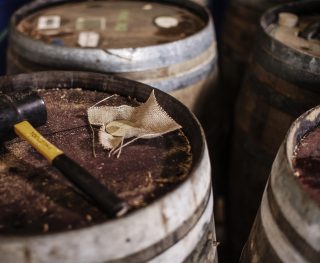 TeelingRising Reserve No. 2
21 Year Old Single malt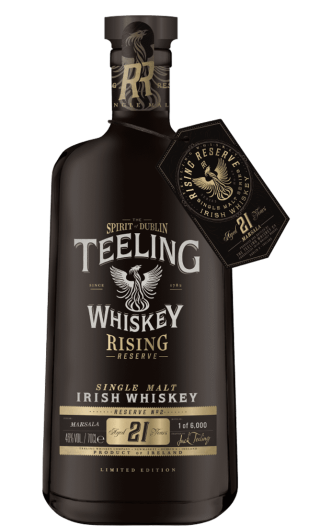 SINCE 1782 THE TEELING FAMILY HAVE BEEN CRAFTING IRISH WHISKEY, WITH THE OPENING OF THE NEW TEELING WHISKEY DISTILLERY IN DUBLIN'S LIBERTIES AREA, THE TEELING FAMILY ACCOMPLISHED WHAT THEY HAD LONG SET OUT TO DO, REVIVE THE TRADITION OF DISTILLING IN IRELAND'S CAPITAL. TO CELEBRATE THIS RISING AND THE NEXT CHAPTER IN IRISH WHISKEY'S NEW GOLDEN ERA, TEELING WHISKEY IS PROUD TO ANNOUNCE THE SECOND RELEASE OF OUR RISING RESERVE.
THE RISING RESERVE SERIES IS A FOLLOW ON FROM THE HIGHLY SOUGHT AFTER AND SUCCESSFUL, AWARD WINNING REVIVAL AND RENAISSANCE BOTTLINGS, WHICH WERE ORIGINALLY RELEASED TO CELEBRATE THE OPENING OF THE TEELING WHISKEY DISTILLERY AND WITH THAT, THE REVIVAL AND RENAISSANCE OF THE TRADITION OF DISTILLING IN DUBLIN.
RISING RESERVE SERIES 2 CONSISTS OF 21-YEAR-OLD SINGLE MALT THAT WAS INITIALLY AGED IN EX-BOURBON BARRELS FOR OVER 18 YEARS BEFORE BEING FINISHED IN HIGH QUALITY, UNIQUE EX-MARSALA WINE CASKS FOR 3 YEARS. BOTTLED AT 46% ABV WITH NO CHILL FILTRATION, THIS RELEASE IS LIMITED TO JUST 6,000 BOTTLES.

proudly bottled at 46% ABV
with no chill filtration, for true character.
tasting notes
nose
A mellow vanilla sweetness intermingles with toasted apricots, tobacco, and rich spiced fruits, along with a hint of sweet seville oranges and toasted almonds
taste
Creamy, warming mouthfeel with bursts of brown sugar and stewed fruits, followed by oak tannins and cinnamon spice
finish
Long warming finish with honeysuckle, rich demerara sugar, citrus & spice