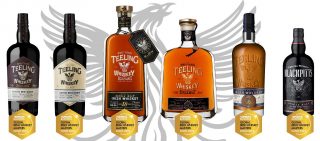 Teeling Whiskey Takes Home Gold at the Spirits Business Irish Whiskey Masters
Posted August 1, 2022 in Updates
We are delighted to announce that we have taken home 6 gold medals for our whiskey as the recent Spirit's Business Irish Whiskey Masters. Following on from a very successful year, having picked up World's Best Single Pot Still at the World Whiskey Awards, two outstanding and four gold medals at the International Wine and Spirits Competition (IWSC), and three double Gold medals at the San Francisco World Spirits Competition (SFWSC).
Our flagship Teeling Small Batch picked up a Gold medal at the awards confirming its quality and merit over the years as an unconventional blend that pushes the boundaries of Irish Whiskey. Our Single Malt was also honoured at the awards having picked up a Gold medal for its complex floral and fruit aroma and warming malt finish.
Our Distillery in Newmarket Square recently turned 7 years old and alongside this birthday we have released more whiskeys that are proudly Dublin Distilled. Our Wonders of Wood Single Pot Still, aged in American Chinkapin white oak casks, picked up a Gold medal to go with its title as the World's Best Single Pot Still. Our Blackpitts Peated Single Malt aged in Sauternes Casks picked up a Gold medal at the awards along with the honour of "Whiskey of the Year" at the recent New Orleans Spirits Competition, presented by Tales of the Cocktail.
Our Renaissance Series 5, an 18 year old single malt aged in Calvados casks picked up a Gold medal at the Irish Whiskey Masters this year. Focusing on atypical cask maturation, our Renaissance Series of Single Malt whiskeys challenges the conventions of Irish whiskey and we are delighted to receive a Gold medal for the last in its series. Finally, our Teeling 30 year old Single Malt picked up a gold medal continuing the streak of awards stemming from it being honoured as World's Best Single Malt for our 24 Year Old Single Malt at the World Whiskey Awards in 2019.
Speaking on the award wins, Jack Teeling, founder of Teeling Whiskey said " We are extremely proud to continue to outperform at International Spirits Awards. Since 2012, we have focused on expanding the range of Irish Whiskeys on the market through creating new categories and expanding the spectrum of flavours within established categories. We are firm believer in the quality of our Teeling Whiskeys but continued independent verification gives us confidence to keep doing what we do best. "
For more updates on all things Teeling, including new releases, events and offerings please sign up to our mailing list here. You can also follow us on social media!
@TeelingWhiskey | #TeelingWhiskey
Facebook
Instagram